Our valuable social networking management services give you all of the promotional benefits, but none of the time-wasting distractions.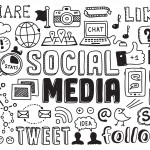 Social media marketing covers everything from Facebook and Twitter to forums, but it's the 'social' part that's the important bit. Tell people what you do, what you like, how you do it, who you like… It takes time and effort but it's worth developing your social media presence. Canny Marshall will do this for you and ensure that you're keeping your followers, likers and contacts up to date with relevant content and ensure that you're using the latest tools and applications.
Increasingly people access company information via social media rather than directly to websites as through social media sites they get the real you, the people that work in your business and more importantly see what your customers are saying to you and how you respond to them.
Many businesses ignore social media marketing, but Canny Marshall take a more constructive view – it's possible for anyone to develop a cost-effective strategy that will get you noticed, engaging with customers and developing brand awareness.
Use social media to your advantage through a workable and target-focused plan of action.
Services – There is no escaping the fact that social media marketing takes commitment. Sorry to break this to you, but to do it properly it's a slow burn. Canny Marshall has a number of options for you:
Social media strategy and brand design
Social media integration with your website, blog and other social media profiles
Social media management – we'll run the social media on your behalf
Blog writing and marketing
Social media training
The time has come. To be honest if you are reading this then you've clearly sat on the sidelines for too long. Contact us today and we'll set you off. It's not big and it's not scary.